POS SOFTWARE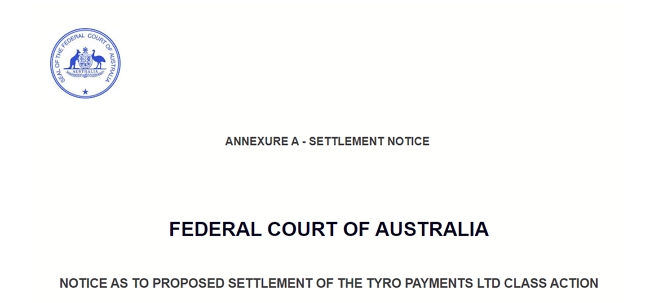 We have been asked to notify our users,  many of who were affected by the outage to Tyro's EFTPOS facility in January 2021 
A proposed Tyro Class Action has now achieved a proposed settlement which, if passed, will see Tyro compensate many of those that suffered loss or damage due to this Outage.
The full text of the proposed settlement is here.
The key points, I think, are
> Tyro does not admit any fault.
> Tyro will pay $5 million.
> If I read it right, the lawyers of CHC are asking for about $3 million from the $5 million, and the rest will be distributed to people affected.
> It is impossible to estimate how much those affected will be paid accurately. 
If you feel you were involved and are unsure if you are in this settlement, contact CHC immediately.
Bannister Law Class Actions
ADDRESS: 74b New Beach Road, Darling Point Sydney NSW 2027
Email: tyroclassaction@bl.com.au
Tel:  02 8231 6529
Note: Our understanding is that you cannot claim here if you took our advice and accepted the tyro terms earlier as you have "validly opted out of the Tyro Class Action (that is, by filing an Opt Out Notice before 30 October 2022, unless the Court orders otherwise)"  but there is nothing to stop you contacting CHC to confirm this fact. If so please let me know what happened.