POS SOFTWARE
Quite a few people have taken on the following offer which is ending soon so if you want to know more, you need to move quickly.
For tyro EFTPOS, however, there was a slight amendment on the offer which I doubt will affect anyone here but here is the latest offer.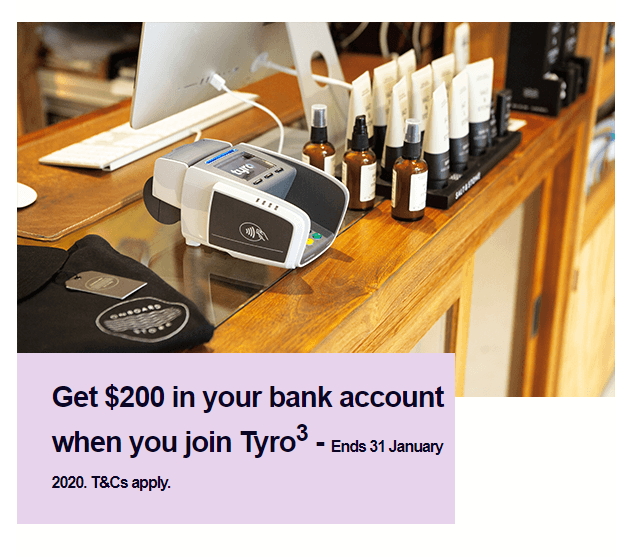 PosBrowser integrates seamlessly with Tyro EFTPOS. Experience the integrated difference for your in-store payments today.
Integrated EFTPOS designed for Retail
Direct Integration - Our EFTPOS machines speak directly with your Point of Sale system
No Manual Keying - Means no keying errors or reconciliation discrepancies 
Integrated Receipts - Give your customers one integrated receipt, with their invoice and EFTPOS details all in one
Save time & money1 with Tyro EFTPOS
No lock-in contracts or breakage fees with Tyro
Tyro Tap & Save customers as an average are saving 7.6% on Merchant Service Fees2
Until the end of January 2020 - sign up with Tyro and receive $200 in your Bank Account to get you started3. T&Cs apply
Want to know more, please let me know or click here!
Important Information
1. Tyro does not guarantee any cost savings by opting in for Tap & Save. Savings on eligible transactions processed through the EFTPOS network vary for each business depending on their card mix, transaction volume and amount, industry, and pricing plan. Eligible transactions are contactless debit card transactions less than $1,000. Tap & Save is not available on Special Offer pricing which includes some flat fee simple pricing offers or where you surcharge on debit card transactions as cost savings may not be realised. Yomani CR, Xentissimo and Xenta terminals do not support Tap & Save. For details refer to the FAQs at Tyro.com or call 1300 966 639.
2. 7.6% savings on Merchant Service Fees represents the potential savings of Tyro eligible merchants (calculated as an average), over the period December 2017 to May 2019 and was based on actual eligible transactions processed during this period.
3. Tyro $200 Cashback Offer Terms and Conditions
These Terms and Conditions together with the relevant Tyro Terms and Conditions available at https://www.tyro.com/terms-and-conditions/ (Merchant Terms and Conditions) govern this offer. By providing your details to Tyro Payments Limited (ABN 49 103 575 042) (Tyro), in connection with this offer, you agree to be legally bound by these Terms and Conditions. 'you' and 'your' mean the person or persons in whose name the account will be held with Tyro.
This offer is available to eligible persons from 9:00 am 01 October 2019 (Sydney time) until 5:00 pm 31 January 2020 (Sydney time) (Offer Period). This Offer is not applicable in conjunction with any other Tyro offer. Tyro reserves the right to extend or withdraw this offer at any time at its sole discretion. If Tyro withdraws the Offer, Tyro will honour the Offer in respect of all New Customers that have their applications approved by Tyro before the Offer is withdrawn, provided that applicants satisfy all of the Eligibility Criteria. New Customers can cancel any live application in the event that Tyro withdraws the Offer.
To be eligible for this offer, the following criteria must be met:
You must have received an email from Tyro or one of its current Plus Partners (as listed at https://www.possolutions.com.au//) inviting you to take up this offer;
You must not have held an account with Tyro within the 6 months prior to the start of the Offer Period;
You must have applied to become a Tyro EFTPOS Banking merchant during the Offer Period and be approved as a Tyro EFTPOS Banking merchant within 30 days;
You must not be an additional terminal or MID (additional account) to an existing location or existing ABN; and
You must not be a member of a merchant group, corporate group, buying group or franchise group that has an agreement with Tyro, (the Eligibility Criteria).
Tyro may, in its sole discretion, determine whether or not the Eligibility Criteria are met.
Provided the Eligibility Criteria are met, $200 will be deposited into the bank account nominated in your application form to become a Tyro EFTPOS Banking merchant ($200 Deposit). $200 Deposit
The $200 Deposit is only payable once per ABN. The $200 deposit will be paid within 90 days after the date you are approved as a Tyro EFTPOS Banking merchant.
Tyro Payments Limited ACN 103 575 042 AFSL 471951 (Tyro) is the issuer of its own financial products. As Tyro does not take into account your personal circumstances, please consider if these products are suitable for you. You can contact Tyro on 02 8907 1700 or tyro.com and access Tyro's dispute resolution process at tyro.com/complaint-resolution-process/. Tyro may pay financial benefits and/or referral fees to our partners.
Want to know more, please let me know or click here!