POS SOFTWARE
What they are doing now more are paying by debit card and the new alternative methods. Of the alternative methods, the fastest growing is Alipay. Although I have no current figures, about a year ago in 2018 10,000 merchants around Australia were offering Alipay as a payment method. 
What has been happening is that consumers in Australia have been rapidly changing from cash to other forms of payments.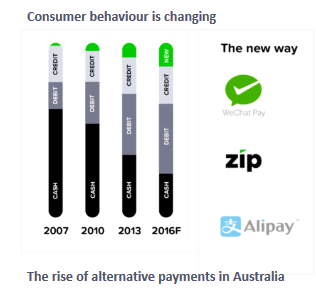 Look at the alternative payment figures, Alipay it is the fastest growing segment in this category. What Alipay is, is the largest online payment platform in China. It has been snowballing in China for years and now is the preferred payment method for Chinese students and tourist in Australia.
Itwire studies have shown that  99% of Chinese tourists in Australia have Alipay.  In 2018, Alipay transaction volume in Australia increased by 110% and using Alipay the amount spent per person was up by 40% and its a wide range of products that they buy here.
The Alipay fees are comparable to many VISA and Mastercard transactions now, and there is no cost to switch on so for our clients, I cannot see it as anything else but a no-brainer to try it out.
So we are pleased that we are offering a direct integration of Alipay. It will work through Tyro EFTPOS which as Tyro has no fees or contracts, so it is easy for any of our clients to add this payment type if they want it. If you are interested, let me know.