POS SOFTWARE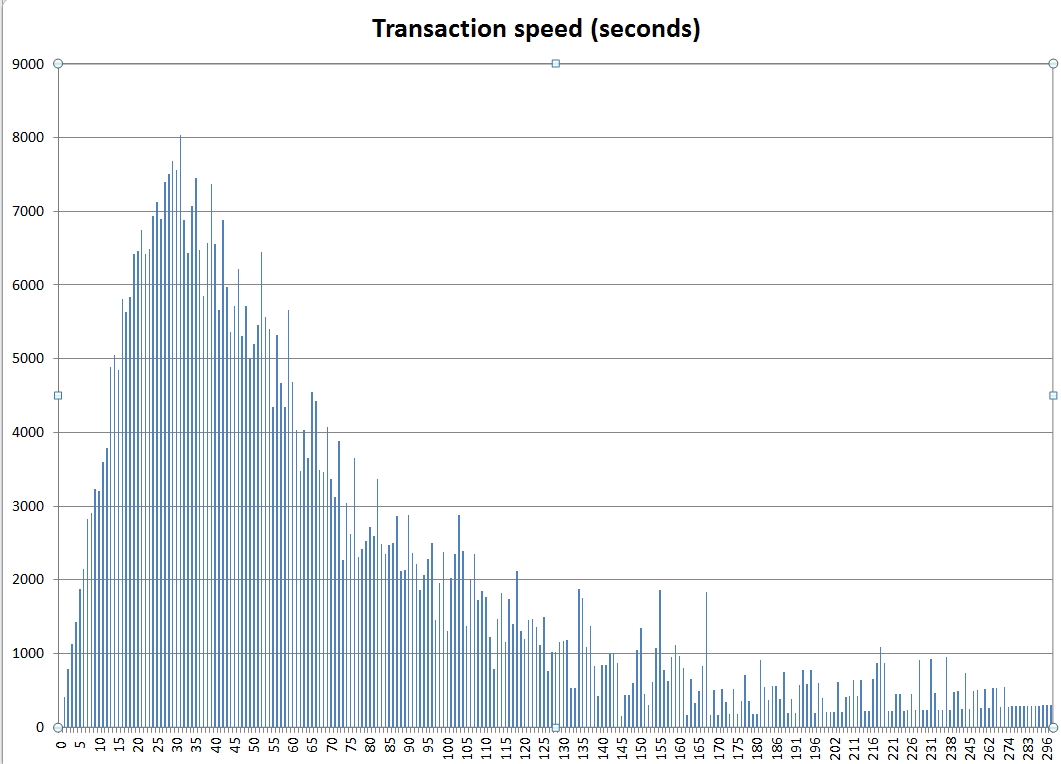 How Fast is Your POS System?
Industry-standard is 40 seconds a transaction plus three seconds for each item.  So if a sale has three things, the time is about 40 seconds plus three things in their basket which is 9 seconds. Thus you are looking at about 50 seconds. 
Consider this:
 80% of customers state that they are unwilling to wait in line if it takes longer than five minutes. So if your queue is six people, there is an 80% chance someone will walk out.
Sometimes, the retailer needs speed.
So how does your point of sale transaction speed stack up?
I took about 20,000 cash register transactions off one of our client's system.  Here is what the graph above looks like for transaction speeds. As you can see, our average speed of transactions was 36 seconds a sale.  In a pinch, our client was doing much better.
On speed, I am sure we match any system on the market.
Now here are some free and low-cost ideas you can do to speed up the transactions. 
- Often a better arrangement of your computers can help, use your faster computers upfront. 
- Use scanning more. It is faster. Put barcodes on more items.
-Consider having several cash-draws on one computer. Besides having better security, it means in a pinch; you can have more people working the tills.
-Integrate your EFTPOS and use Tap and Go. Besides reducing errors, it is much faster. 
-Use at the counter touchscreens. It is more natural and faster.
-Switch to email and/or our new free SMS receipts. 
Our point of sale system (POS) can allow you to serve more customers faster.