POS SOFTWARE
I think it's worth looking at what is happening with Woolworth's Everyday Extras program to anyone looking for or running a loyalty program in their shop.
Woolworths introduced the Everyday Extras program, which offers faster point accrual and higher discounts than the regular rewards program. However, there have been recent changes where the cost of joining the program has increased, and benefits have decreased. Many customers are unhappy with these changes.
To be fair to Woolworths, it was a new program and with new programs, changes are only to be expected. The reasons for the changes are unclear, but I think we can reasonably guess that it is at least one of two reasons or maybe both.
Scenario 1: It is possible that the cost of running the program was too high
The University of Newcastle found in a 2021 survey found the average supermarket grocery bill was A$98 per week for a single person, $145 for two, $168 for three, $187 for four, and $255 for five or more people 
If we say that is about $150 average for a shopper, assuming a shopper only brought at Woolworths and plugging in the benefits as a first-level approximation, we get this.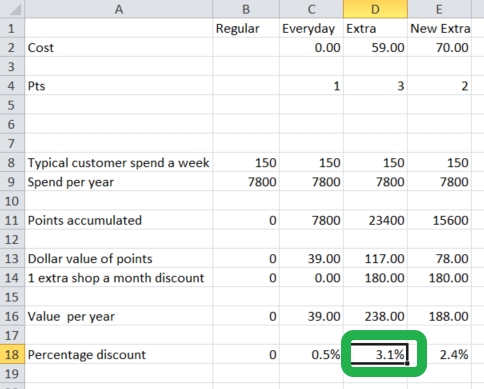 That means to say the program cost them 3.1% of sales. It is too much, loyalty programs should be about 1%, and 2% is the maximum. Even now, at 2.4%, it is too high. Reviewing your program and seeing if it is paying for itself is crucial.
Scenario 2:  Woolworths is price gouging.
Everything else has gone up. Little went up during COVID, and now everyone is catching up. We all have problems now with our supply line. Maybe Woolworths decided they could get away with charging more and giving less. I am sure someone in Woolworths can and does count these costs. Are you counting your costs?
What can we learn from Woolworths' Everyday Extras program?
Loyalty programs can be expensive to run.
Reviewing your program regularly is vital to ensure it's still paying for itself.
Customers are sensitive to changes in benefits and costs.
If you're considering starting or running a loyalty program for your business, carefully weigh the costs and benefits. And be prepared to make changes if necessary.