POS SOFTWARE
Remote work
Since the COVID-19 pandemic, we have seen a massive change in our working practices. Remote work has become common. Today, many businesses offered work-from-home options for full- or part-time employees. If you have some working from home, here are my views from our experience for you to consider. We have 40+ years of experience in remote working.
1) Productivity
Many studies have shown different results on whether working at home is more productive at work or home. It is telling that most large companies and government departments, which I am sure have checked their figures want their employees back at work. So I wonder if people are more productive at home.
2) Work from home
Experience and studies confirm show only about 42% of jobs can be done from home. Even if a job can be done from home, not all employees have a dedicated workspace without distractions and interruptions to work at home. I find, for example, like this woman in the image below, that my kid distracts me at home while working. That is part of the reason workplaces were invented to give people a place to work without distractions.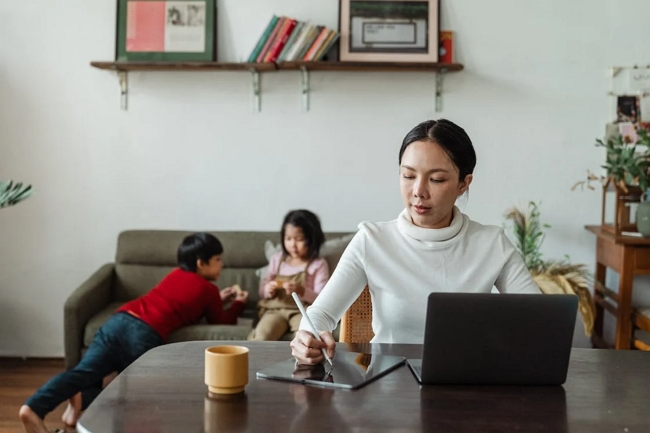 Many lack the technical knowledge and/or tools to work from home. 
3) Some kinds of work are not suited for remote work
It is challenging to be creative and collaborative at home if isolated, as it is harder to collaborate and communicate effectively with one another. Many jobs need a lot of teamwork, creative input, and collaboration. 
This is true of routine jobs; for example, I find doing salaries much more challenging at home than at work. You need all the information immediately, which is only available at work. It is interesting at the height of the pandemic lockdown; the Victorian government had to change the lockdown rules to let payroll staff return to work. 
4) Security Threats
Today we should all be concerned about cyber security threats. Protecting your client's information and company data is only possible if the information is at your work site. Implementing secure remote access protocols and security software can help only somewhat. We have had to modify some of our client's computer systems to address these threats.
5) Oversight
Many do not work at home; it is for them an excuse to bludge. It's a fact. 
In my experience, monitoring performance and ensuring remote workers meet expectations can be challenging. You will know if people work in some jobs, but not all. 
6) Training
This long-term problem worries me; how do you train people if they work remotely? 
7) Cost savings
There is potential for employers to have cost savings by allowing employees to work from home. Because they no longer need as much space, some businesses have even been able to reduce the size of their workplaces. Plus, their requirements have changed. They now need more meeting room space and technology to run Zoom meetings.
Key points
> Since the COVID-19 pandemic, working from home has become common.
> The productivity of remote working is debatable
> Only about 42% of jobs can be done from home
> Many employees cannot work remotely
> Collaboration and communication can be difficult
> Cost savings are possible
> Additionally, security dangers
> It can be challenging to track remote workers
> Training remote workers is difficult