POS SOFTWARE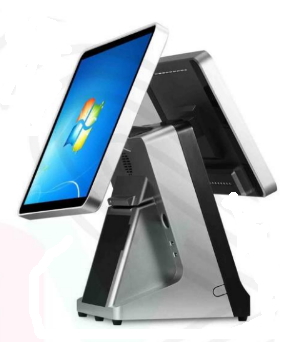 What most people like about them is they are ideal for places where space is at a premium. What people like is that they can quickly be adjusted to provide an optimal viewing angle for the people serving and the customer.
For Point of Sale software, one problem in retail is that computers are designed with airconditioned offices in mind where people tend to be gentle with them. Shops are dirty, often they are not airconditioned and often people are not gentle with them. I have clients that have tire shops, their hands are covered with grease and they use the computers all the time with a bang, bang and bang.
So we recommend these Dual Touch Screen Terminal. The cases are much tougher  then normal computer cases, since they do not have vents, they have no dust problem and so can take grease and  liquid spills too.
Check them out.