POS SOFTWARE
We suggest that every month you do a sales Comparison report to compare how you did this month to the same month last year.  This is considered as being a very good indication of how you are travelling,
You will find it here:
Main Menu > Cash Register > Register Reports > under the Select Report tab, expand the Stock folder > select the report "Dissection Family Class Period Sales Comparison".
Then you will see this screen.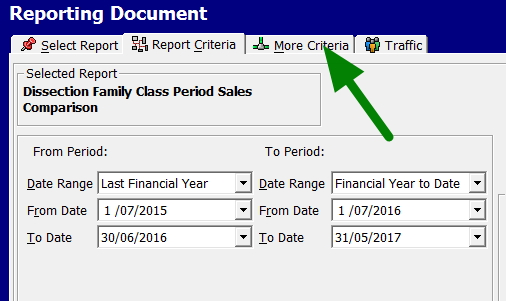 Now put in the last month of January 2020 and compare it to January 2019.  Then out will pop out a wide range of KPIs, including quantity, cost, sales, profit and GP%. with a breakdown by amount and percentage. I find the GP% to being very useful as that is the actual figure that I am getting not what the suppliers are telling me.
Once you have done that please experiment with the extra options in the More Criteria tab which I marked with a green arrow.