POS SOFTWARE
Many years ago, the Victorian Chamber of Commerce decided to analyze how good Australia Post was on deliveries. So they asked many of their members to send them a return letter on a particular day. They concluded that the letter probably would get through on time, but you cannot count on it happening on time. If there was a problem then, it is much worse now.  
Due to COVID, we are all facing problems now with deliveries. I think it's made Australia flawed delivery system worse. Years ago, I was told that it was cheaper if you had many items to send to many places in Australia to package it and send it to China. Then have them separate it and send it back to Australia to the many places. That was then and now, I think we have had worse service and higher prices
Today Australia Post uses a measure that states if a parcel is three days late or less, it was delivered on time. With that measure, they are at 90%. Tell me, if you were three days late would you consider yourself on time?
So I was pretty impressed when in Townsville, I was given this analysis of 352 taken over seven months.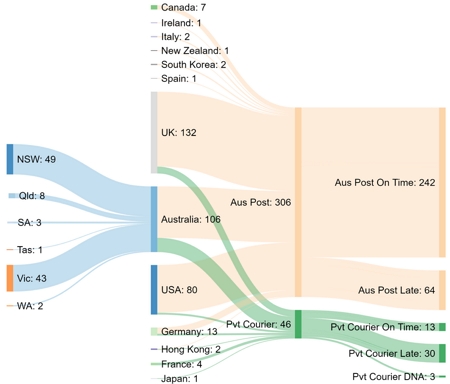 If you look at it, Australia Post in Townsville is doing well, that shocked me. Tip: If you send a parcel to Townsville, Australia Post looks like a good choice based on this. It is often the easiest too although rarely the cheapest.
Unfortunately, this sort of analysis is only suitable for what we send out. For what we get often, we have no control over who sends it.
Our experience now in Melbourne is pretty mixed, we have not broken it down by couriers, but we often face late deliveries now. One of our engineers was so upset recently. So he jumped into his car and delivered it personally. When I complain, I have noticed that even Australia Post now subcontracts much of the deliveries. Many problems are caused by most freight in and out of Australia going through consolidators. These consolidators wait for a container to be full before they ship it. This causes significant delays.
This is something we are living with now.