Readers here may be interested that my post yesterday on these "Buy now, pay later" services generated much discussion and comments.
What I do agree with is that these services are a credible alternative to Lay-by if the merchant is willing to lose 3% to 4%. Although I do not see any legal problems with the merchant adding these charges on top, although I am sure these services and the public will not like them doing this, but if they did this, it would cost them nothing.
However, it is important to realise that these services also target a different market, the market where people require goods now. For example, lay-by do not work for a girl with a hot date tonight who needs a pair of shoes. It will not work for a person who needs a toy and card for a birthday today or tomorrow, a person who needs stationery now, a person who needs medicine now nor will it work for a person who needs now a new filter for his fish pond. By having these services, a merchant can open up his shop to these *NOW* people too.
Even so, I do believe what I said was accurate. The reason is because we did much research on this market space, did a lot of net searches, spoke to several of our clients where we found that the principal issue most of our clients was how many members does a payment method have as they did not see much difference in the offerings to them from all these services, so we decided that we would go initially with the biggest which is Afterpay. I always say you have to walk before you run. You try one and if works, then you go further. So we feel that if we should pick one, why not the one that is clearly the biggest.
Yesterday, I showed of the interest with Australian public as measured by google of all three offerings over the past 12 months. Here is a graph of the past 90 days, as you can see it the same story, I still say Afterpay is the market leader as measured by interest, and as you can see this is true in all states.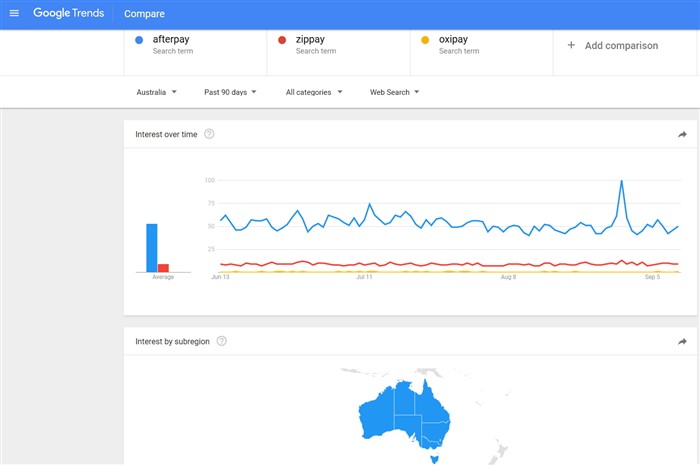 The other point that I liked about Afterpay is that they have promos to their members and push customers onto their merchants. If the others do this too, I have not seen it.
But that does not rule out that we will not expand our offering as time goes on, we now are currently in discussions with the senior Partner Account Executive at Zippay, which are the next on our list, and I will say we were very impressed with their product offering too.
As far as Oxipay, what I said was true. I have only had one enquiry from a merchant in Tasmania, and that was not much of an enquiry and at present; I have little knowledge about their product but after zippay, its next on our list.
I thought then, and I still think now is that we got it right.