POS SOFTWARE
The method we suggest is mirror marketing which is a proven method to make a check on your existing stock lines for the coming day, a week etc.
Here is a step by step method for doing it.

Go to Register Reports marked in green.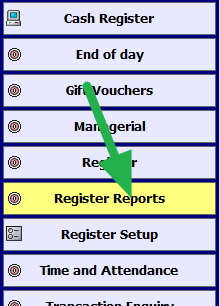 Now select in stock, "Stock Sold During Period(a) Not Sold in Period(b)"



What the report tells us what was sold in a previous period (a) last year but has not been sold now, so we examine the past year's figures and compare it to what we have currently.

Now, this is a bit confusing but bear with me. What we want to do is compare the week coming in last year with this week which we have figures.
So today is the 19/11/19

So we put in (a) the dates 19/11/18 to 25/11/18 <- note the year. This is last year when we have figures.
Now we put in the dates for the coming week starting with 19/11/19 to the 25/11/19 which is what we need to estimate.

In then put in the dates for (a) as of 12/11/19 to 18/11/19 <-last week.
You will also see a lot of different options here, which can help with ordering and giving specific department information. We will talk about these later.

Now what you investigate in the report where you get what was sold last year, but you are not selling now in your current period. The odds are you are out of stock.
Primarily with the holiday trends are already starting to appear, you need actual history to make decisions as it is not the same as last week.
 
This is a compelling report for stock control, and it is worth having a look at it in detail.