POS SOFTWARE
We are a major cloud-based Point of Sale supplier, Retail Express, a competitor to us released shady advertisements, about us we think. They like us, they can handle central ordering and receive with head-office buying. Where I think, we are stronger is where stores within the chain also do their own wholesale ordering and receiving, where they have large numbers of stock items, a large number of sales and/or numerous suppliers.
They must see us as their major competitor
If you put into the search bar of google "POS Solutions Australia" Sometimes you will get something that looks like this.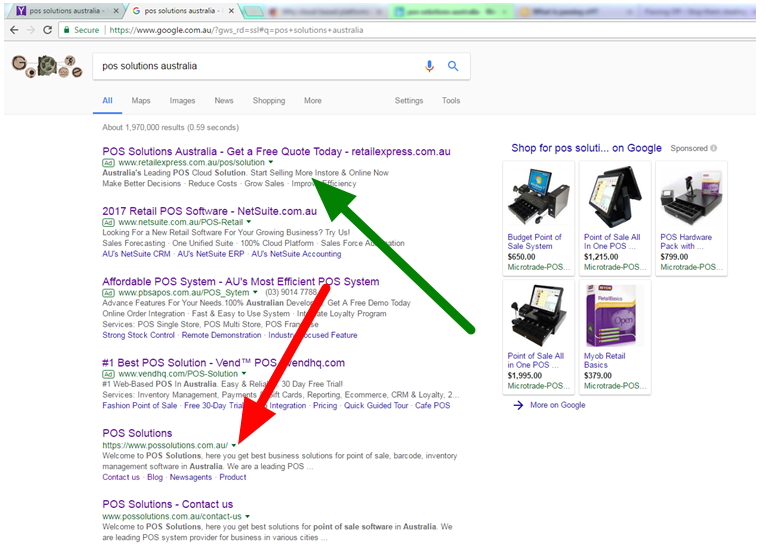 Now look at the top entry where the green arrow is pointing, its states that it is "POS Solutions Australia" but it's not us; it actually is an advertisement from Retail Express offering to give you a quote. If a person is looking for us and is not careful what they will find is Retail Express. They need to make doubly sure as we are there, a bit further down see the red arrow.
Similarly if you put into the search bar of Yahoo "POS Solutions Australia", you get the same result.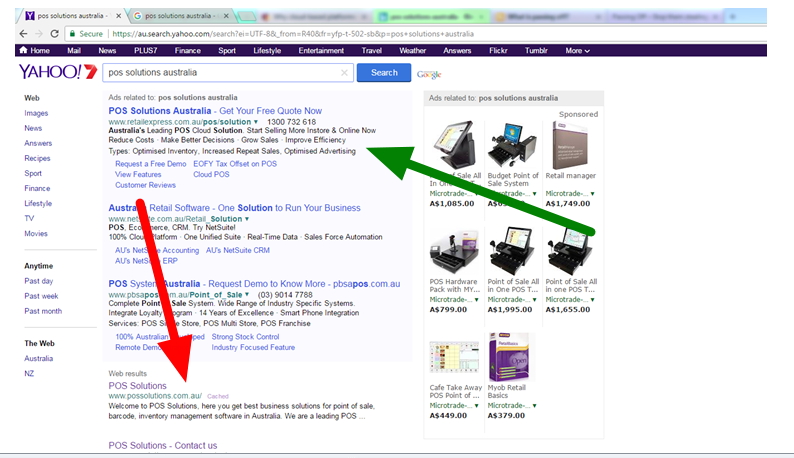 Please click here for google. Now click on POS Solutions Australia on the top and see where you go.
This one is even more interesting so click here for Yahoo. Now click on POS Solutions Australia on the top and see where you go?
Interesting huh??? Note sometimes it does not come up, so check the images above for what comes up sometimes. How would you like it if it was your company, and this was happening to? Actually, I personally would never do anything like this
Now what do you think about that?
I am actually unfortunately quite experienced in this matter as I had a similar experience with another company who tried to steal our name. I won, but I still remember the lawyer's bills for that case.
So I contacted Retail Express and was ignored. Finally, I got a response that I felt was not adequate, so I am now upset.
So then I contacted google. It was not easy, but I found an online form and lodged a complaint with google. I have a case number, but they will not contact me. They are not even talking to me.
Then I contacted Yahoo. This time I demanded to talk to someone. Now, this part is funny. I called a person at Yahoo and explained the situation. Once I finished explaining, the guy just hung up on me in mid-sentence. He did not even say boo. Wow, I thought this was the way to run a business. So I rang back and got another support staff and explained the story again. This guy gave me a special Yahoo phone number to call. When I called the special number, the automatic response on the number stated what my verification number is? I was not given one so it asked me to get a verification number from the number in Yahoo, I had just called. It also gave me a Yahoo email to write too. So I wrote an email and sent that. So I have a case number from Yahoo and an assurance that they will get back to me in 24 hours but no one to talk to. So I called back the original number in Yahoo because I did want to talk to someone. The guy refused to give me a verification number; why give me a phone number earlier without a verification number; I asked. He did not answer my question. He kept referring me to help on the Yahoo page. When I pointed out to him that there was nothing on that page for my problem, I was told I would have to search. I told him, I had done that but really why should I search? Just give me the web address. He refused to give me the page. He then when I requested it, refused to do a search for my problem on the help page either. At that point, I demanded to speak to someone else.
She was considerably better, and her English was much better too, but she could not help me. Her solution was that I should write Yahoo a letter. Yahoo is asking me to write a letter. Won't the post office be happy to hear that? Mind you, I think Australia Post's service is better than this, actually, I think almost any company's service is better than this.
It is too late now so I will give them 24 hours before I can do something as I need to provide Retail with Express, Google and Yahoo a chance to react. I hope it ends amicably before it escalates.
To be continued!!!
Update 23 May 17:
I got an email from Yahoo today saying that "Due to the implications of legal action, all of your future correspondence will need to be sent in writing to our Legal Department:"
Update: 29 May 2017
I have heard nothing from Retail Express, Yahoo or Google, although the more blatant advertisements have been withdrawn.
Update 12 June 2017
A letter was sent to Retail Express, Yahoo and Google on 8/June/2017 that the advertisements had been changed and now clearly show that they are from Retail Express, not POS Solutions; we were withdrawing our claim in VCAT. No response was received back however, its too early to say
However, when I did a search with google and yahoo, I can see that the advertisements have stopped entirely.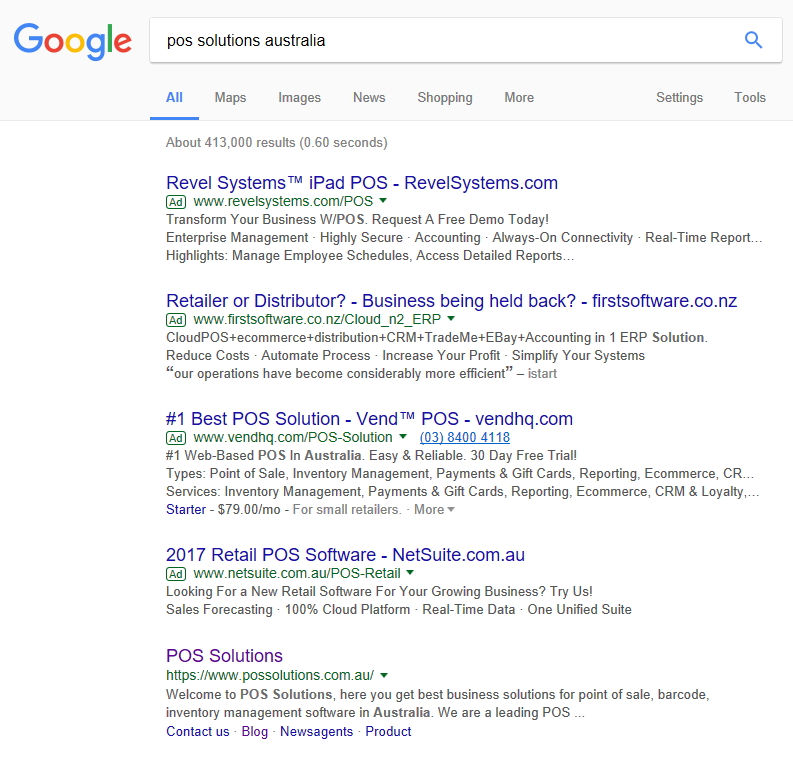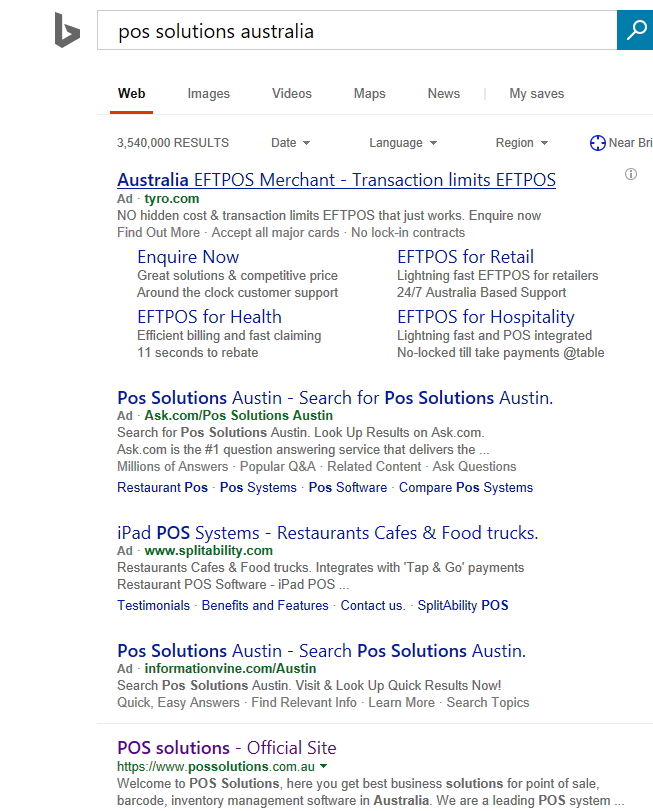 Perhaps Retail Express have stopped this type of promotion, if so why? Maybe commercial as many of the clicks would be readers here and myself, which would have costed them, or maybe they stopped because of something that we did. Anyway for now, we are happy they have stopped this form of advertising which we think is very dubious.
Update 14 June 2017
Well no response came from our letters sent on the 8/June/2017 but it appears that Retail Express have restarted the advertisements but now they are clearly marked as coming from them and not us.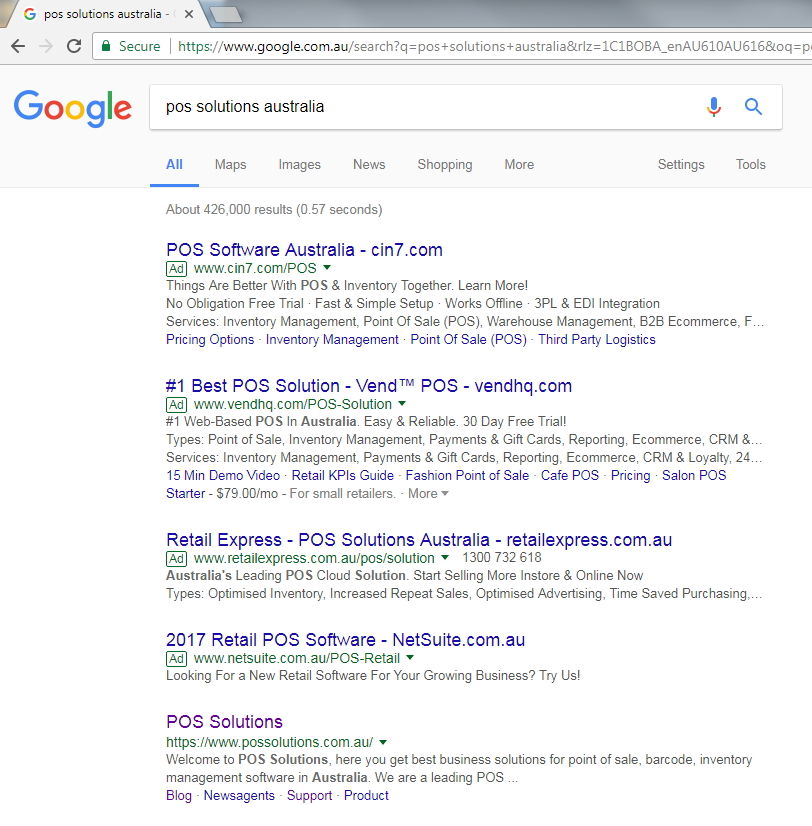 You know somehow I expected better service from Google and Yahoo on this issue.
But I do wonder why would Retail Express go to such lengths just to use our company's name in their advertising. We have never used their name for our advertising.
Update: 29 June 2017
Well its back but with a difference, now if you go searching for us in google or yahoo with the keyword, they use in their heading "POS Solution" singular without putting in their name.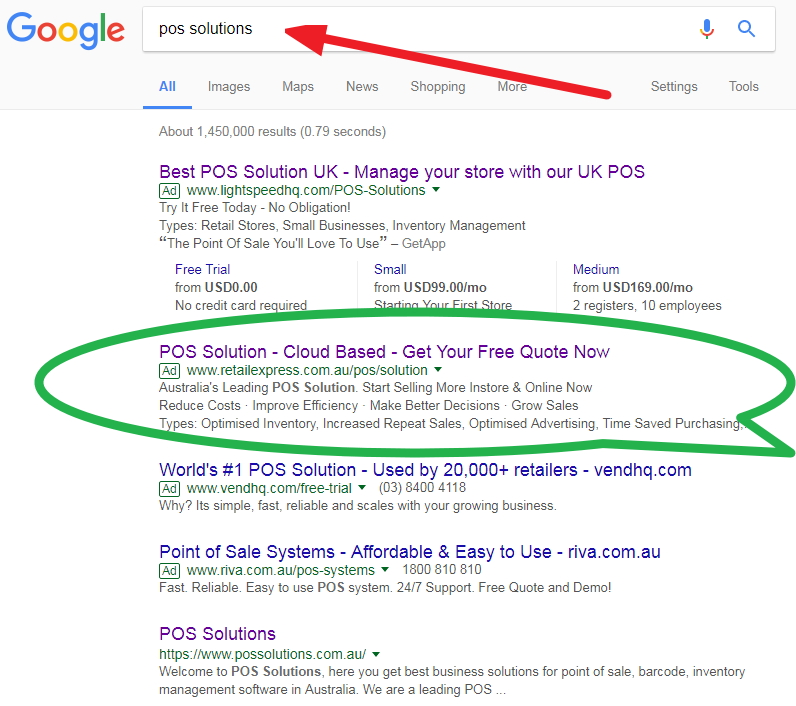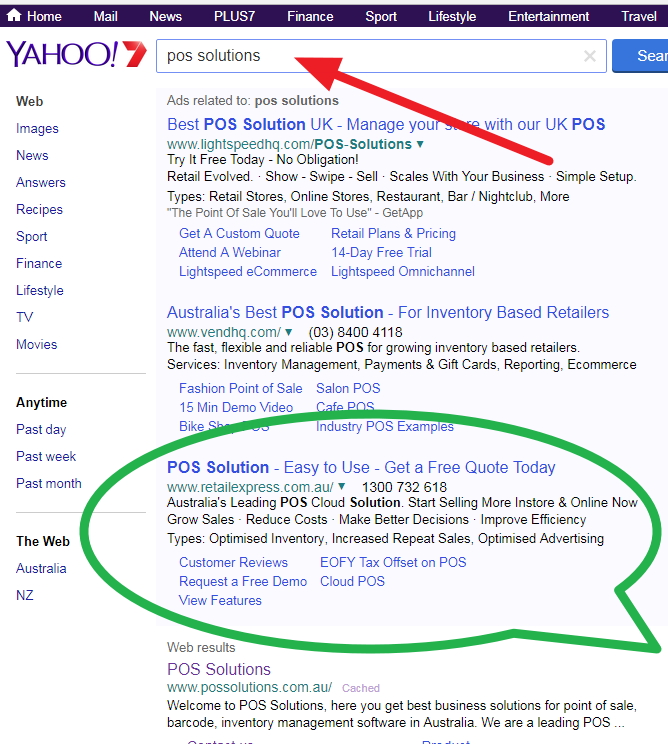 If you ask me this form of advertising does not honour to retail express and to google and yahoo for allowing it. Retail Express should not be allowed to do this form of advertising and it should be banned.
To be continued