Product Bundle Pricing or Group selling is probably the most successful and common marketing tool in retailing at the point of sale today.
Go into a McDonald shop and you will get a concession if you buy a meal, of a burger, chips and a drink. Add the items up and you will find it cheaper to take the meal. The point is without this offer you probably would not have brought these items. It's an up sell.
In its simplest form, it can be a "Buy one, get one free" known by its acronyms BOGO, BOGOF, or BOGOHO. Of course our clients have something much better, a whole system to generate these group sells. With our software, you can set specials in your shop such as multiples of one item for a discounted price, multiple items combined for an advertised price or buy some and get one free so say you could set up a bakers dozen so when your customers buy 12, they can get one free.
Many of you have heard of the current problem with XchangeIt which we believe is changing its process to suit other software vendors and bow to their limitations of their software. If done it holds back our clients, this is something we find unacceptable so our clients will be advised by us to use their group sell facility.
Actually, I think its worth all our clients to look at the power they have in the group sell facility. One marketing idea that works is to combine several products into one package, this is what we are going to do with XchangeIT so no messy menu keys and better sales history.
This has proven to be an effective method of moving unsellable stock. What you do is add to an attractive item this less interesting item as a bonus at a slightly marked-up price. Alternatively do what McDonald's do and make a kit that people can buy.
You will find it one of the most effective ways to generate traffic in your shop and generate sales. Here is where you do it.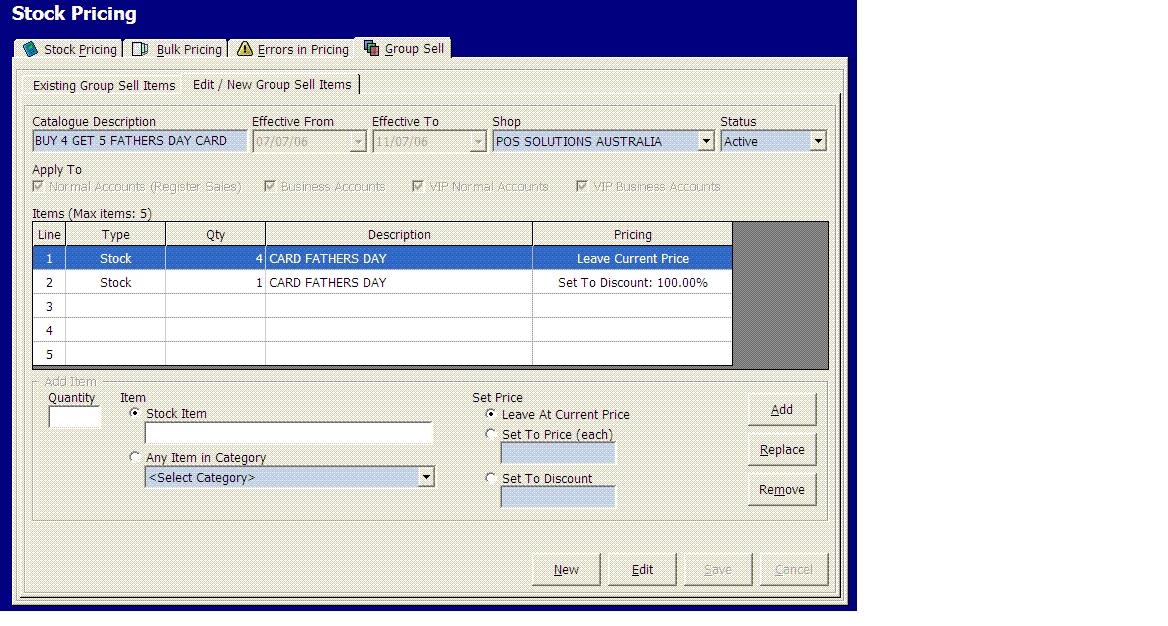 Experiment say with buy 6 of a range of stock and they can get a different product at a discount. Note its extremely flexible.
Another idea is to set up so the customer can buy many separate times and when they reach the desired level, they get the benefit. In a program, particularly effective in coffee shops of ours, people can buy over time 12 coffees, and they will receive the 13th item free. If you want to you can make it more complex still such as "Get 12 coffees and get 20% off 13th coffee between 2pm - 3pm Weekdays and 5% on Weekends between March & June; Valid only if you bring in your physical barcode card"
You will find you are only limited by your imagination.