POS SOFTWARE
Today I got a lot of emails with discussion by people over newspaper sales over the next ten years.
Not surprising as I am an authorised forecaster and am going as a delegate to the Conference for the International Federation of Operational Research Societies next week. I also have access to the best data in the industry and been around in the industry all my life.
I am yet to see any study showing that newspapers drop will be catastrophic in this time period. If anyone has such a report, I would like to see it released so we can study not only its results but also its data that went into it and the methodology that it used.
Let us take the facts, currently newspaper circulation sales are dropping by about 2.6% a year in Australia. Over ten years if this kept going it would result in about a 23% drop. That is a bad drop but over ten years, it is hardly what I would call a wipe-out.
In Australia, the most respected Operational Research company for industry is probably IBISWORLD. Here is their study for "Newspaper, Book and Stationery Retailing in Australia" dated June 2011.
What they are expecting is the industry to have a revenue Growth expected next year of -1.3%
I would like this figures to be positive as I am sure would most of my readers but these figures show that if this report from a reputable Operational Research company is correct such retailers can expect overall their existing product sale to be approximately the same. Clearly, though newsagents have to be innovative, look elsewhere as no-one wants negative growth but this is true for almost any other Australian retailer. One idea that is not being talked about, but you may want to consider is personal care or toiletries. Here is a stand I saw in a French newsagency while I was there.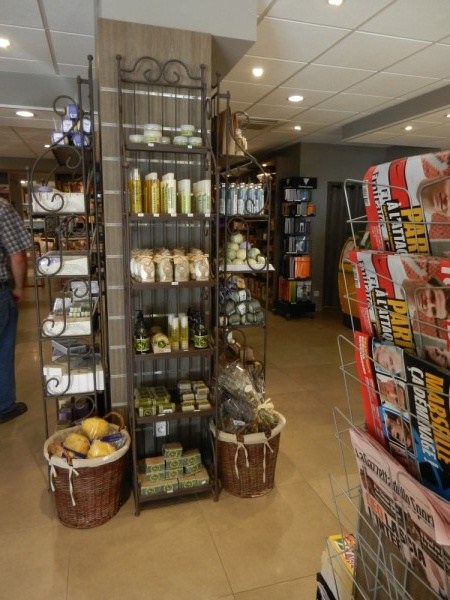 I do not think, I am alone in my views, for example, I talked to a few of newspaper publishers last year on this very topic and was told, they expect little to change in the industry structure over the next ten years for newspapers. Then they will have to look at it. I am sure that over this period. there will be much change in the newspaper mix with some going down fast, currently now most of these rumours centre on the Australian newspaper. However, this is true for the newspaper industry since it began.
Please look over some newspaper circulation figures here and make your own mind up.