POS SOFTWARE
Right now, when people go to a shop, consumers know what they want, they plan their trip carefully. Shopping is not a social activity now. If they browse, it is online. They know what they want, and they go straight in for it. They do not look right and they do not look left. 
If you want them to come to your shop you have to make sure that people online can find you and they are clear about what you have.
We call this type of online activity - The local Web. I think it is worthwhile studying this diagram because this is where you need to be now.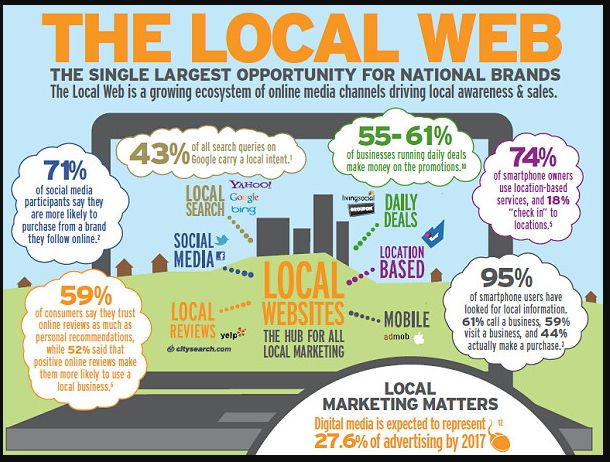 Here is what I suggest you do, imagine you are a consumer and you are looking for a product or service that you are in, do an online search for the product and try and find yourself?  Make sure you look up google, bing and yahoo.
Why not ask your customers if you were looking for XYZ product how they would look? 
Do you have a google business page? Google is by far the biggest search engine in Australia if you do not have a Google Business Page you are in trouble. Why not get it as it is free? Click here.
Google will be pushing people to these businesses.
Do you have a Facebook page? If no, why not again it is free?  Facebook has an estimated 16,000,000 Monthly Active Australian Users. If you think about it, there are 25 million Australians, so we are talking 60% of all Australians. The percentage is higher with shoppers.
While you are at it, why not check out your competitors online on social media platforms. Look for their Facebook page, what are they doing?
There are many more social media sites to review; here is a March 2020 list rated by importance to Australians.
PS All retailers that are doing well have websites; please do no longer consider it an optional extra. Its is not that hard to start, use your top-selling reports to put in your top-selling items, you do not need that many to start as a rule the ten stock lines do about 33% of the shop sales. The key things for each product should be readily available, and off you go.