POS SOFTWARE
All major retailers, when you meet them one report that you see that they use all the time is a comparison report of what they did in the last previous period, to the same period last year. So what they will show you now is a report that shows the year 2018 Q1 compared to 2019 Q1 and a column of percentage changes. Then the question they will discuss what was different, why did these figures change?
We have written a report almost exactly the same as one produced by a major retailer to give our clients this report. It is called the dissection comparison report.
What it does is compares by several measurements of the sales of stock items in different period.
Go to 
Main Menu > Cash Register > Register Reports > under the Select Report tab, expand the Stock folder > select the report "Dissection Family Class Period Sales Comparison".
Now you will see this screen.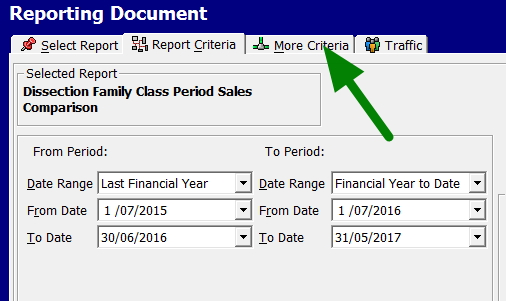 What I suggest you measure the first three months of this year with the first three months of last year to see how your sales are changing over time. The two measures that I recommend that you check are the quantity and profit percentage changes. There are many other key performance indicators (KPIs) listed too there, which can make interesting reading. From this, you can determine whether the problem is prices, your margins, your sales quantities etc. If you want you can check your figures to the in the Australian Bureau of statistics but do not use the seasonally adjusted figures as you have the actual figures here.
Now once you have bedded down that part of the report, check out the More Criteria tab marked with a green arrow. There is a lot more there.