POS SOFTWARE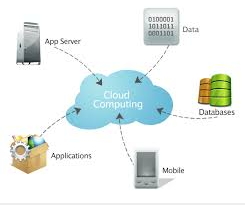 What it enables you to do is backing up your data, to an online storage service. Popular services include Dropbox, OneDrive (which is my favourite) and Google Drive.
When I first started talking about low-cost or free online backup for point of sale available, many of my competitors were negative. I suspect as they wanted to sell the dearer one. 
Today almost all my clients use such a service, and most of my competitors offer such services in their software. 
Some of the pluses would be 
Your backup can be largely automated.
It is safer as it is off-site so even if the shop burnt down and every backup was lost; you would still have a copy.
Data can be easily transported from one computer to another say at home.
However, we recommend all our clients use cloud back up *ONLY* as a secondary and last emergency service as some of the minuses would be 
Online storage services sometimes do lose data, do not believe just because Microsoft has your data that it is safe. One of my clients lost most of their backups when one staff left and removed the store's Microsoft 365 licence from her home computer. You still need to watch it.
It can take a long time to do the backup. A 1.5 Gigabyte point of sale date file at 512 Kps (which is a good rate) will take about 7 hours. While it is happening, your internet will slow down dramatically. 
People tend to take it for granted once it is back up to the online site that it is okay. Not necessarily. I have seen corrupt backups from the cloud. The data can be faulty just like any other backup system. The backups still need to be checked.
The free cloud services probably will not provide you with an automated solution from what is today a significant problem - ransomware attacks.