POS SOFTWARE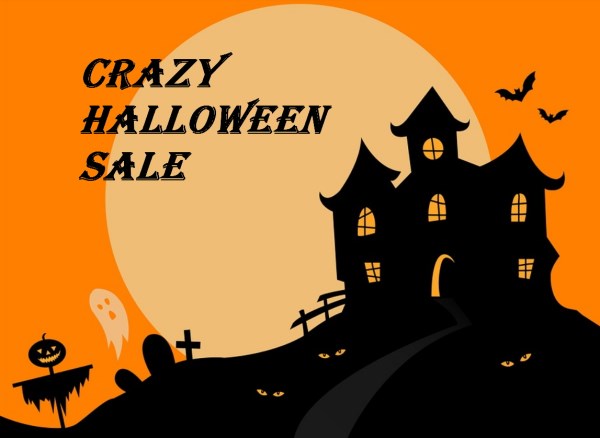 Everyone is trying to get some more retail sales. One of the most effective methods is a flash sale where you have a great deal going on offer now for a very limited time.
One of my clients got from a local gym, an offer called a "Crazy Halloween Sale" a few days ago by SMS, with an offer of15% off with no administration fees if he signed up today. He thought about it and decided if the gym can have such a sale why cannot he make one for his business.
This is where the story gets interesting.
He took a few items, prepared three offers and used his VIP system in our POS software to send out his "Crazy Halloween Sale" by email newsletter. He picked up a couple of sales which he thought was enough to justify the work.
The next day, the gym sent him an SMS, that due to the success of the  "Crazy Halloween Sale" they were extending the offer to Sunday.  My client thought about it and decided since it was working for the gym and his business he would do this too. So he sent another lot of emails saying because of the success of his stores "Crazy Halloween Sale", they were extending the offer to Sunday. He has now picked up a few more sales.
This is an example of a flash sale and how effective it can be in attracting people due to the hype and the short sale cycle.  
Here are some points if you want to run a flash sale
- Use a marketing sign in the shop window. 
Have a decent mailing list, if you need email addresses if you are our client we can supply you with a free email mailing list from your area with businesses that you can send emails too to seed it but you do have to work it to get this list. You will get by using your VIP loyalty marketing anyway. 
Facebook advertising can be used very successfully.
- Have a believable reason why the flash sale should happen eg you sell doughnuts and today is "National Donut Day". You are a sandwich shop and its after lunch and you have all these sandwiches you must get rid of. Another example might be you have all these Mother's day cards and it is so close to Mother's day that all of this stock must go. The more believable the reason the better.
- See if you can upsell by adding to the sale items some other items.
- Make sure you are prepared with enough stock and staff. There is nothing more frustrating than having people come to buy a product that you do not have or walking out because the queue is too long.
Good luck and let me know how went for you.